Hey!
Wow, Wednesday already, Time flies that's for sure! So, at the weekend I took a little time out to test play with my NEW Tim Holtz Distress Markers. Yep, you heard me right, this CAS girl has jumped on the 'Distress' wagon!
But ... I'm keeping it CAS! Is that possible and as Kerry said "That sentence kinda messes with your head!"
One thing I am really 'loving' at the moment but haven't really explored or tried out is the watercolour look on cards. It's been popping up here and there in the design world and wanted to try it out. So after watching a couple of tutorial videos I gave my Distress Markers a whirl!
I started off really simple choosing a few colours and doing the direct to stamp colouring method. Yep, I realise that I could have just used my SU! markers for this technique but I think there is a bit of a difference in the result and I don't like feeling left out! Lol!
Here's a close up ...
After I had colour the solid Gerbera stamp with my chosen colours I gently spritzed with water before stamping onto regular white card stock. I'm looking forward to trying this out on different card stocks for different results but this is what I had on hand and I kinda like it.
A 'distressed' CAS card! How about a few more to make it a lovely gift set, in a rainbow of colours ...
One card took me less than 10 minutes to make which is perfect when your in a hurry! They're also perfect for a NEW to me challenge blog
Pretty Pink Posh
, I stumbled upon their 10 Minute Craft Dash Challenge
HERE
.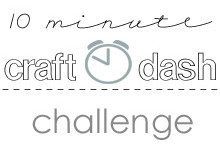 I'm also entering these into the
Moxie FAB World
Focal Point challenge
HERE
. That's all from me today, thanks for stopping by.
Hugs
Card Stock: WPlus9 White. PTI
Stamps: Uniko Studio Pure Florals: Gerbera
Accessories: Tim Holtz Distress Markers, Mini Mister.